This post is long overdue, at this point Matt, Turk, and myself took this trip almost a year ago now. Better late than never I suppose, I'll still be updating pictures here and there, but I wanted to get this post out!
Day 1, Travel
The trip started out quite amazing, it was my first flight on JetSuiteX, and airline that opened its door to the public for its charter flights 1 year prior. It was 1 year on the dot as well which meant it was their birthday, and we got hats!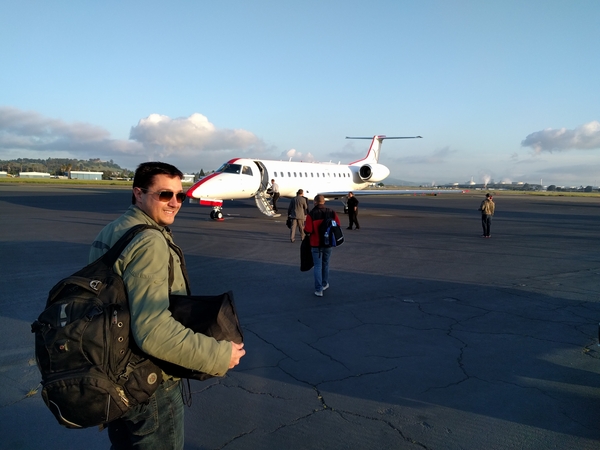 Our flight was uneventful, but it was merely the first part of our journey to our final destination. We hopped an Uber over to the rental terminal (as we had many huge bags with us) and pickup our cheap Kia that barely fit our luggage. We then awaited our third arrival.
A few minutes later Turk landed, so we headed over and picked him up to start the next leg, to another airport! We drove from Burbank to Ontario airport and dropped off the rental car, we then waited for our ride on the next leg.
A few minutes later our ride to Eaglerider showed up to drive us to Murrieta, where the delarship is. Another short hour later and we saw our bikes! They were all nice and lined up for us just waiting to hit the open road. We signed the paperwork, and loaded up the bikes to head out for our final leg, which was a long one.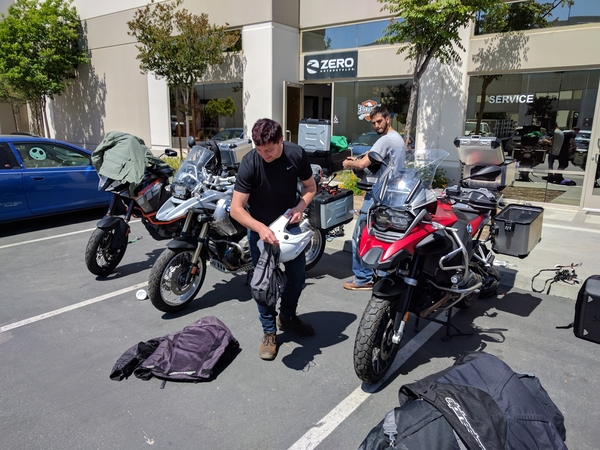 We headed out for the final leg, a grueling 300 mile ride from Murrieta to Phoenix. We took some scenic roads to get used to the bikes and feel them out, but spent the majority on the highway. Finally arriving at our hotel for the night in the early evening.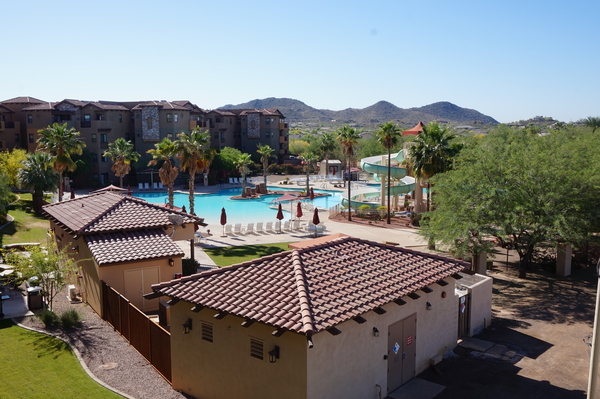 It was a long day spent traveling, and we weren't quite finished yet, but a quick soak in the pool and a good dinner helped ease into the next day.
Day 2, Travel some more, then find camp
After a very nice stay at this hotel, which was closer to an apartment than a hotel room, we loaded the bikes back up and hit the road. Luckily today would be a much shorter ride, only about an hour and a half as opposed to many many hours.
We grabbed some breakfast in Phoenix and then headed out to Sedona. The journey was a bit dull, but we found our little exit and headed down to the river. Fully loaded we went offroad for a bit, and started to notice that each campsite now had no camping signs posted. We got to the end of the road, and every area you could camp had signs posted not to. Apparently roughly 2 weeks prior they changed the rules and turned the entire area into day use only. So we left.
Back on the road we visited a nearby state park, the Sedona tourism center, grabbed our daily smoothie, and one of the Jeep tours facilities to sort out where we could go. It turns out that on the other side of the highway there was camping allowed, unfortunately not near the river, but a few miles in we found our spot after a few hours of checking out various sites. We unpacked camp, and headed back to town for dinner and supplies.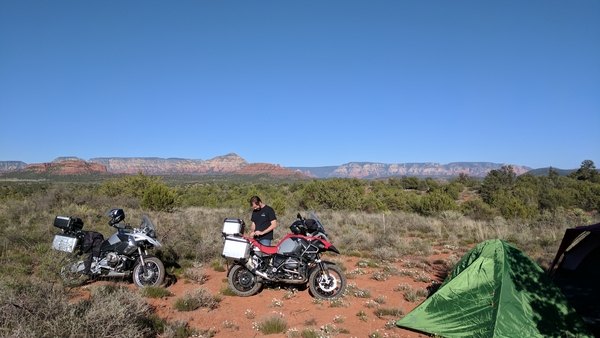 Day 3, Hit the trails, weep softly
On day three it was finally time to hit some trails. We knew there were a few close to us, so we picked one we thought was supposed to be moderate and went for it. This trail was name "Greasy Spoon" and the head was only about a five minute ride from camp.
The trail started out nice, it was somewhat complex, but had easy spots between them making it quite enjoyable. Then we hit our first big obstacle. Riding up to it looked like a sheer drop, so we parked the bikes on the side of the trail to go inspect it. The drop was not as bad as it looked, but the downhill was going to be challenging, so one at a time we got to it.
We all managed to get down, with nothing overly dramatic happening, but this was just a taste of what was to come. We also ran into our first jeep tour here, they were very surprised to see motorcycles on the trail and gave us some encouraging words. We pressed on and what followed was a series of hills, slippery dirt, tons of rocks, and lots of falls.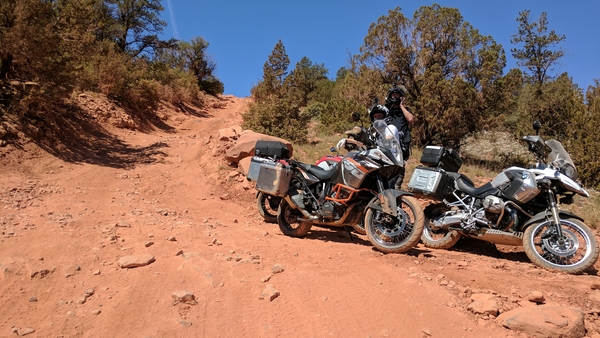 It was more or less time for lunch after this, so we headed to town and got some grub. We made our daily visit to the smoothie shop, and while we were there one of the Pink Jeep tour guides recognized us from the trail. So we talked to the guy for about twenty minutes about our morning, and he tipped us off to a much easier, and much nicer trail. We took his advice and it was probably the most enjoyable ride we had all weekend.
This ride took us over the ridge that overlooked Sedona, so not only was the ride more the speed we were looking for it was also a very pretty view. We took some drone footage from up there but the GoPro was giving us problems and we ended up not having the footage on the camera. We managed to salvage the first flight but that one was only seconds long as we realized it was having issues when we took off.
We headed back to camp and as it was dark by this point we had a bit of trouble finding it. When we did, we realized someone had setup camp in front of the entrance to this area, we're not sure if they didn't see our camp behind them or just didn't care. As we approached Matt saw it at the last second and over shot it, I slammed on my brakes and hooked it hard into the camp, which meant almost passing right through our new neighbors camp. All the while this girl was standing on a hill next to their camp, just watching these motorcycles very suddenly stop and head through their camp. I do still wonder what was going through their heads as we cut through. We dropped by later that night to introduce ourselves, but they seemed disinterested at best. Their dog did come and visit us though, so that was nice.
Day 4, Hit easier trails, weep more
On our forth day we decided to take it easy and only do simple trails. So we headed out and started hunting for trails that looked easy. We found a service road for some power lines and it looked like it went up the hill which we thought would make for an interesting ride. The majority of it wasn't bad, until we got to the first major hill, and it was rough, gravely, and a tough ride all around. Turk and I reached a turn around point and we decided that this was harder than we intended and turned around, taking it very slow coming back down the hill.
We decided to continue down the dirt road we turned off of for this trail to see where it went. It ended up taking us to a hiking trail head, but no vehicles were allowed up there. So we stopped for a water break there and then headed back down the road. We decided that the other side of that service road looked much nicer, and there was no hill so it should be mostly flat. Little did we know what we had just signed ourselves up for.
We hit our first obstacle on this trail, and when both Matt and Turk fell, at almost the same time about thirty feet apart, we thought it would be wise to walk the bikes down one at a time. This was our first hint that we should have turned back, but we figured it was a fluke and we didn't want to go back up the hill we just came down. We pushed on, and Turk left his sun glasses at the previous hill, so he hiked back while Matt and I surveyed the next hill, which was much harder.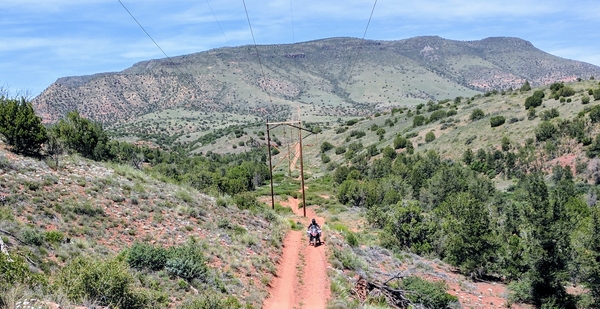 We decided to get Turk down the hill first as he was in the lead, and have him go scout ahead to see if we should turn back or not. The next hill was just under a half mile away, and the comms units could just barely work at that range with clear line of sight under power lines. He dropped his bike and couldn't get it back up, but said that it looked like an easy ride on the other side of that hill. As we needed help, and Turk could not get his bike upright, he walked back to us.
After getting the other two bikes down the hill, Turk hopped on Matts bike and we got to ride two up until we hit the first difficult area. I managed to eat it pretty hard on this hill, but thankfully no damage done to the bike, nor myself. We carried on up this hill which had proved to be the most challenging uphill we had so far. All three of us managed to drop our bike at least once during this climb.
We were treated to another difficult downhill after this, which while challenging was quite boring, with the exception of a half fall from Turk where his foot was pinned between the bike and the dirt, and from the way his shoe looked we thought he broke his ankle. Thankfully it was just his shoe that was turned about, and he was fine. We headed down an easy by comparison road until we came to a fence. To which we all thought we were going to be told to turn around, and decided we would not if that were the case. As it turned out it was just a sign asking to close the gate behind you when you get through.
We carried on a bit further until we hit a crossroad. After some debating, maps lookups, and a bit of hiking, we decided to take this new road and hope it took us where we thought it did. This road was not easy, but it was much more the pace we were looking for, or it might have been we had levelled up our game by this point too and by comparison to the last set of hills it was a cake walk. We got to a point where we could see some horse trailers we had passed near the hiking trail head, so we felt that we were nearing a real (well dirt) road. After a few more minutes we found it, and I don't think I will ever be as happy to ride on a dirt road.
This was by far the hardest day, and by this point it was only about two in the afternoon. We had decided that while that was fun we should head back to camp as this road would take us just about to it, and unpack a bit before heading into town to get some food. This was where my favorite fall of the trip was, and probably Turks least favorite. As we entered our camping area Turk thought he would show off in front of our neighbors, and decided to ride into camp standing on his pegs. He bit the dust pretty hard right in front of them, and it was amazing as he went down in a cloud of red dirt, and their dog came running over barking at him to see what happened. The whole camp looked worried, until Matt helped him up and Turk rushed off with his pride shattered. Poor guy.
That rounded out the day, we ended up getting food and taking it easy the rest of the night.
Day 5, Head to the resort
This was an easy day. We woke up and pretty leisurely took down the camp and packed up the bikes. We were only heading down to Phoenix to grab a hotel and relax for the day. We got to the hotel and had our stuff portered to the room then went and got some lunch. We headed to one of the pools on site to relax and hopped in the hot tub to round out the afternoon. We spent the majority of the day watching Silicon Valley, and going over footage from the previous days. We had dinner and tried to hit the hay early as the next and last day was going to be a long one.
Day 6, Go Home
We hit the road by about seven, as we needed to be at Murrieta by one in the afternoon and to the airport by five. This would have gone much smoother but we ended up hitting Coachella traffic on the way back. We did save some time via lane splitting, but it was intense with about a hundred pounds of gear on my bike and feeling like I was as wide as a small car. We got the bikes back and Matt and I had to pay for a bit of damage, but overall it went smooth. We got to the rental car place and pushed on to our final stop of the Burbank airport. We got Turk there in plenty of time to catch his flight which ended up being delayed and then changed to an earlier flight, while we were very early for our flight and got to hang out in the JetsuiteX lounge for a couple of hours.
The rest was uneventful travel, which was a nice end to a hectic, but amazing trip. I can't say I ever want to do trails that are that hard ever again on ADV bikes, but I am glad we did it. I think next time we will attempt something closer to our Colorado trip, but travel light and camp every night at a new place, yea backpacking on motorcycles sounds like a fun trip.
After all was said and done I think we had around 1TB of video from all 7 Gopros, so our resident video guy, really just Matt, put together a video!